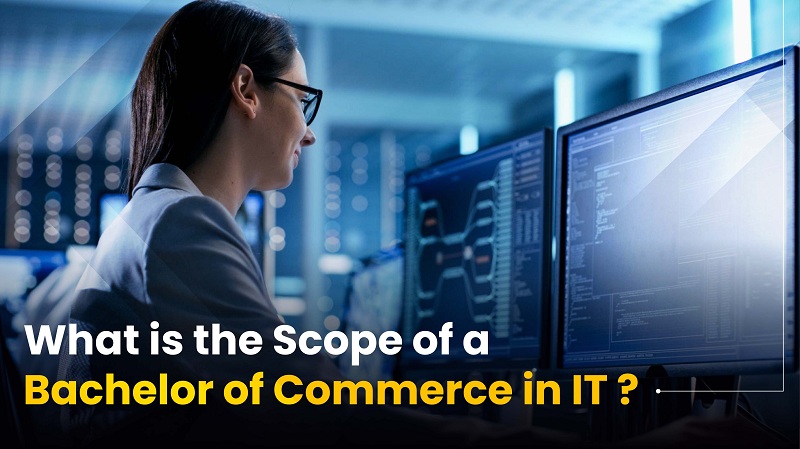 The need for workers with both business and information technology (IT) skills is growing rapidly in today's technologically advanced society. And, according to the National Association of Software and Services Companies, the Indian IT sector employed almost 51 lakh people in FY 2021–2022; the majority of whom were IT-skilled. Given this circumstance, bachelor of commerce degree with an emphasis on information technology is highly sought after and provides a wide variety of professional options.
But, are you still unaware of its fantastic scope? If so, please read our blog to learn more about the enormous breadth and potential of this degree and to discover the numerous fields in which graduates of the BCom IT colleges in Tamilnadu can thrive.
Table of Contents:
Bachelor of Commerce in Information Technology- Course Overview
Business and technology are combined in the BCom Information Technology course, which also covers the design, development, implementation, and management of information systems as well as the customization of software and computer hardware. Moreover, Business Management, Software Testing, Economics, Financial Accounting, Software engineering, and Development are some of the key academic subjects covered in its curriculum.
Degree Highlights
In general, admission to this study programme is based on merit, but certain colleges may require the scores of management entrance exams. A few specifics of this in-demand course are tabulated below:
| | |
| --- | --- |
| Level of Education | Undergraduate |
| Course Duration | 3 years; semester-mode |
| Basic Eligibility Criteria | Must complete the 10+2 level of education Secure a minimum of 50% in their 12th standard At the time of admission, applicants must be at least 17 years old, and for the majority of Indian colleges, the upper age limit is 25 years. |
| Average Course Fee | Ranges from INR 15,000 to 20,000 per year |
| Higher Education | Master of Commerce (M.Com) |
Which sectors are open to you following a BCom in information technology?
By providing a strong understanding of mathematical principles linked to data manipulation and multi-step logical analysis, the BCom colleges in Tamilnadu provide B.Com (IT) graduates with a fantastic opportunity to work in a variety of sectors. Given below are a few of the well-known working sectors for individuals with this degree:
● IT Consulting and Management
It acts as one of the main career paths for Bachelor of Commerce in IT graduates, and by acquiring a combined knowledge of business processes and IT systems, these graduates are well-equipped to analyse organisations' technical requirements and develop successful strategies. However, thebest BCom colleges in Tamilnadu train pupils to act as a link between management and IT teams, making sure that technology supports corporate objectives, drives growth, and boosts output.
● Business and Information Technology
As an interdisciplinary programme, BCom (IT) combines essential business knowledge with IT-related technical abilities. Students thus go through a thorough curriculum that covers topics like accounting, marketing, management, and computer science. Also, graduates who adopt this multifaceted approach have a comprehensive awareness of both the technological and business facets of organisations, which makes them priceless assets in today's cutthroat employment market.
● Digital Marketing and E-commerce
The expanding industries of digital marketing and e-commerce offer BCom (IT) students another intriguing career path. And, by providing expertise in IT systems and business acumen the best colleges in Tamilnadu for arts and science offer an in-depth understanding of leading marketing campaigns, leveraging digital platforms, analysing customer behaviour with the aid of data analytics, and optimising e-commerce websites for maximum sales. Overall, the ability to comprehend both the technological and business elements helps such degree holders to create unique, data-driven marketing campaigns.
● Data Analytics and Business Intelligence
Organisations heavily rely on data-driven insights in today's data-centric world to make wise decisions. Nevertheless, BCom (IT) students are especially well-suited for careers in data analytics and business intelligence due to their technical proficiency in manipulating and extracting valuable information from large datasets and their business acumen in interpreting and presenting this data in an effective decision-making manner.
● IT Project Management
As firms take on more and more complicated IT projects, there is an increasing demand for people who can oversee these initiatives. Due to their proficiency in comprehending business objectives, effectively communicating with stakeholders, and leading IT teams, individuals who graduate from BCom IT colleges in Tamilnadu succeed in IT project management roles. They also make certain that projects are completed on schedule, within budget, and with the expected results.
Also Read: What Are The Specializations Available After BAMS Degree?
Employment Pathways for Bachelor of Commerce in Information Technology Degree Holders
The employment and compensation opportunities for graduates with a B.Com in IT are varied. Also, such graduates can work in any reputed organisation after completing this course.
However, some of the popular BCom (Information Technology) freshers' jobs are:
Information Technologist
Database Administrator
Information Architect
System Designer
Legal Information Specialist
Top Recruiters for B.Com in IT Graduates
Being included among the top BCom IT colleges in Tamilnadu, the SMS College of Arts and Science trains candidates to work in some of the listed below companies:
| | | |
| --- | --- | --- |
| Amazon | Flipkart | Tata Consultancy Services |
| Unacademy | Wipro | HCL |
| Reliance | BYJU's | |
To Sum Up
Given the growing use of technology across numerous industries, the Bachelor of Commerce in IT offers a broad and exciting study. Furthermore, to help industries create the future by fusing business acumen with technical know-how to drive innovation, growth, and success, the BCom IT colleges in Tamilnadu aim to prepare excellent professionals. We hope that this blog will better comprehend the fantastic opportunities that a Bachelor of Commerce in IT degree can lead to.
FAQs
What types of government jobs are open to B.Com. Information Technology graduates?
Following your degree from the BCom IT colleges in Tamilnadu, you can apply for positions in the government as a Junior Associate, IT Manager, IT Officer, etc. However, the top government employers for these graduates include SBI, BSNL, and many more.
How much can a B.Com (IT) graduate earn in India?
The income ranges offered to these graduates may vary based on the skills, job designation, and working experience possessed. But, on average the B.Com (IT) degree holders can make around INR 3.6 LPA – 6 LPA.
Which skills equipped by the BCom IT colleges in Tamilnadu can enhance your future scope?
After attending the BCom IT colleges in Tamilnadu, you can build a proficient career by learning the following skills:
Managerial Skills
Effective Communication
Productivity
Computer Skills
Mathematical Skills
In what ways can studying for a Bachelor of Commerce in IT be beneficial?
An improved ability to communicate, work more efficiently, make better decisions, streamline procedures, and have more access to information are all benefits of studying for a B.Com (Information Technology) degree at the SMS College of Arts and Science in Tamilnadu.