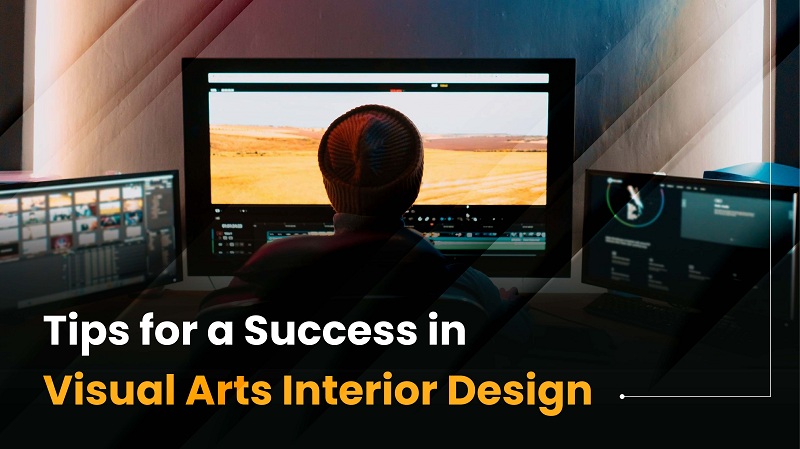 Interior designing is a growing industry in India and according to reports it is estimated that the market will reach up to 38 billion US dollars by the year 2027 from 23.2 billion US Dollars in the year 2020. And with the growing market, the competition among interior designers is also increasing and so do the challenges in completing each project.
And if you are aiming to enter this industry through a BA visual arts interior design course and want to build a successful career in this field, you will love reading this blog.
Table Of Contents
BA in Visual Arts
Students who enrol in the bachelor of arts program in visual arts study the numerous branches of the fine arts. The topics of photography, painting, interior designing, sculpting, animation, filmmaking, print media, etc. are covered in this course. There are various bachelor of visual arts colleges in India that offer this course in various specialisations.
Key highlights of the BA visual arts course by Anant National University
| | |
| --- | --- |
| Course Level | Undergraduate |
| Course Duration | 4 years |
| Mode of the course | Semester |
| Minimum Eligibility Criteria | Candidates must have earned a 10+2 or 10+3 diploma from an accredited educational board in any stream—science, arts, or commerce.Candidates must have received at least 50% marks in their 10+2 exam or an equivalent. |
10 Tips to Have a successful career in visual arts interior design
1. Understand a space & client's requirement- A designer must focus on making a client's space useful keeping in mind their requirement, budget and with no compromise on creativity. Your capacity to turn a room into a functional area plays a significant role in a project's success.
2. Take inspiration from everything- BA visual arts interior design course will prepare you to take inspiration from everywhere. And to become a successful designer you should always seek inspiration be it online, or offline.
3. Be courageous- There are times when a client does not approve or appreciate your design, and that doesn't mean you need to stop being creative. So, do not get discouraged in such situations, try to adjust or modify the design according to the client's requirements and move forward to work even better.
4. Embrace Technology- If you are an interior designer from top designx University then you must know the technologies that can be used in your workplace. But you need to keep improving your technological skills to create collaborative and coherent designs for your clients.
5. Embrace diversity- Every client will expect & demand different designs from your end, so while keeping your signature style in designing, it is also crucial to have adequate knowledge about different styles, techniques, and aesthetics to deliver the best services to the clients.
6. Knowledge of sustainability- Sustainable designs are one of the emerging practices in interior design. And designers from top BVA colleges in India understand the skill of practising sustainability and incorporating eco-friendly practices into their designs, in addition to knowing how to build environments that are both attractive and useful. Customers demand green elements in their homes in increasing numbers.
7. Budgeting without limiting creativity – For every project you will get some specific budget and the client will expect the best interior designs in that allocated budget, so as a BA visual arts interior design graduate, you need to be creative and efficient while utilizing the money in the best possible way.
Additionally in certain cases, the clients will describe their needs & requirements and you have to estimate a budget. So, if the client requests anything that is beyond your price range, you must make sure to make that clear and adjust the price accordingly.
8. Coordinate projects- You need to learn organisational and teamwork skills because as an interior designer, you need to deal with several vendors and have to work with labours. These skills will help you run a smooth project efficiently. And if you are a student from a renowned BA visual arts interior design college in India, then you must have learned these skills in your college days.
9. Communicate & establish a network- The ability to communicate effectively is crucial to success. You must join the interior design community if you want to advance and expand your network of contacts to take advantage of new opportunities.
Establishing a network with fellow designers will also help you understand different situations, requests, and solutions. You can also become a part of online discussion boards and learn from other designers across the world.
10. Update yourself- To stay ahead of the competition, you should be updated with the latest projects, innovations, and emerging practices in the design industry after completing your BA visual Arts interior design degree. You should also watch out for evolving political situations, economic trends, and scientific advancements that could have an impact on your design career.
Why choose Anant National University to study visual arts
At ANU, the faculty members who instruct BA visual arts and photography courses have advanced degrees and are subject matter experts.
From fundamentals to advanced technology, you'll be well equipped with the concepts of design & architecture in this University that will help you address actual problems in this world.
Through campus placement, ANU can assist you in getting jobs at organisations like Teach for India, Piramal Group, Larsen & Toubro, TCS, etc.
ANU is India's first designX University and also has an Aarambh incubation centre that inspires and supports students with entrepreneurial aspirations.
Summing up
We hope this blog helps you understand what tips you can follow to build a successful career in visual arts interior design. And if you are afraid of where you will learn technicalities and skills then you can enrol in top BA visual arts interior design courses in Gujarat and set up a strong foundation for your career.
Also Read: How to Make the Most Out of Your B.Des Course Program?
Frequently Asked Questions
Is interior design an expensive course?
No, there are certain Universities such as Anant National University that offer top-notch interior design courses at an affordable course fee of Rs. 1,25,000 per annum.
How do I start an interior design career?
To start a career in interior design you should first complete a BA visual arts interior design or any other bachelor's degree related to interior design. After completing the degree, you should take internship experience under some senior interior designer. And after getting some practical experience, you can start your career.
Is interior designing tough?
Yes, interior designing is a challenging work profile as sometimes it is difficult to satisfy clients' requirements in a given budget. Additionally, you have to work in coordination with various third parties to complete a project on time.
What is the work of an interior designer?
Interior designers plan & design the layout of indoor areas of all kinds of commercial & residential buildings to maximise functionality, safety, and aesthetic appeal of the space.