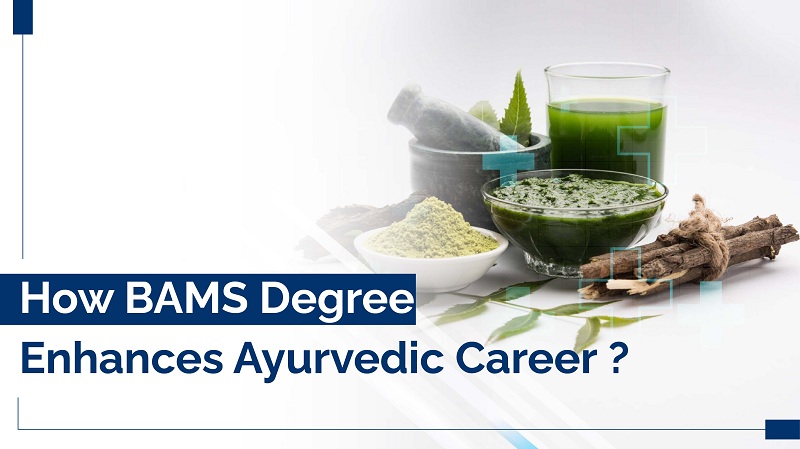 Ayurveda is based on foundational principles that have been relevant for several decades and will continue to be relevant in the coming future. After the pandemic, people are looking forward to alternative medicine that can treat their diseases or health issues without any side effects. And due to this ayurveda industry is seeing great demand. And if you are also interested in making a career in this rewarding sector, you may consider studying at BAMS College in Madhya Pradesh.
This blog will further discuss how the BAMS degree will help you advance your career in Ayurveda. So, keep reading.
Table Of Contents
All about the BAMS degree
A viable alternative to MBBS, BAMS is an undergraduate degree that focuses on teaching students about ayurvedic medicine and surgery. To enter into the field of Ayurveda, having this bachelor's degree is a minimum requisite. Once, the students complete this degree they are entitled to a degree of Ayurvedacharya.
Key highlights of a BAMS degree
| | |
| --- | --- |
| Course Name | Bachelor of Ayurvedic Medicine and Surgery |
| Course Level | Undergraduate level |
| Course Duration | 5.5 years (4.5 years + 1 year internship) |
| Eligibility Criteria | Candidates should have completed a 10+2 or equivalent diploma from the recognized board of education with chemistry, physics, and biology as compulsory subjects. Candidates must have received an aggregate of a minimum of 50%. A relaxation of 5% is provided for the candidates belonging to the reserved categories.Minimum age= 17 years |
| Admission Procedure | Based on the NEET score. |
| Course Fee | INR 2,32,000 |
Benefits of pursuing a BAMS course on Ayurvedic career
1.     Knowledge about traditional medicine with a modern approach- BAMS course mainly focuses on traditional medicine but institutes like Sri Sai Institute of ayurvedic research & Medicine, the top BAMS college in Madhya Pradesh teaches BAMS course with a blend of modern science. It includes the theories & concepts of modern science with the traditional medical system.
2.     Foundation for higher education courses- To further uplift your career in Ayurveda after studying at private BAMS college in MP, you can also pursue a master's degree such as MD/MS and can make a successful career in the academic or research & development field.
3.     Wider career opportunities- The Ayurveda sector is continuously growing as people are becoming conscious of the ill effects of modern medicine and accepting the traditional & safe methods of medication. This has created a tremendous demand for qualified Ayurveda graduates, and BAMS students from BAMS College in Madhya Pradesh are getting advantages from these opportunities.
Let's discuss the opportunities available in different areas-
●      Clinical practice- Be it government or private hospitals, they are welcoming qualified BAMS graduates from BAMS College in Madhya Pradesh. And you can make the most of this opportunity by joining as an assistant in these hospitals/clinics to get some experience afterwards you can start your own clinical practice as a senior practitioner.
●      Research- As the government of India and private pharmaceutical companies are investing heavily in the research & development sector for alternative medicine, this opens great career opportunities for BAMS graduates in the field of research in private & public ayurvedic research centre & pharmaceutical companies.
●      Management- Graduates of BAMS College in Madhya Pradesh who want to work in the healthcare industry in the field of management & administration, can further pursue courses such as an MBA in healthcare & hospital management, master of public health, and master of hospital administration
●      Drug Manufacturing– Drug manufacturing is an attractive career option for Ayurveda graduates. With a BAMS degree, you can establish an ayurvedic medicine manufacturing business or choose to work for ayurvedic manufacturing firms. In addition to medications, the markets for dietary supplements and ayurvedic cosmetics are also growing, and if you are interested, you can work in these sectors.
●      Marketing– Students of BAMS College in Madhya Pradesh can also make their career in the field of marketing in the healthcare industry. You can join public/private pharmaceutical companies as sales personnel, technical writers, journalists, etc.
4.     Better Pay Scale– BAMS courses from the top Ayurvedic college in MP, not only open the door for wider career options in the field of Ayurveda but also help you gain better salary packages with decent job positions.
Let's take a look at the salary of BAMS graduates in the ayurvedic field-
| | |
| --- | --- |
| Job Positions | Salary (Per annum) |
| Pharmacist | 2.51 LPA |
| Ayurvedic Doctor | 3.6 LPA |
| Lecturer | 3.42 LPA |
| Sales Representative | 2.73 LPA |
| Scientist | 6.45 LPA |
| Medical officer | 6.15 LPA |
Reasons why you pursue a BAMS degree at Sri Sai Institute of Ayurvedic Research & Medicine
This institute focuses on offering theoretical and practical learning approaches to students. And to support this the institute also has an herbal garden with 250+ medicinal species where students can practically learn about Ayurveda.
The institute also has an Ayurvedic hospital.
To teach students traditional methods of medicine, Sri Sai Institute has modern infrastructure on the campus such as audio-visual classrooms, laboratories, a library, auditorium, cafeteria, etc.
The college also has a strict anti-ragging policy.
Final words
Having knowledge of ancient medical systems with the foundation of modern science will escalate the career of Ayurveda aspirants with a BAMS degree. With the points discussed above, this degree will also help you in setting up your Ayurvedic business and the field of medical tourism. So, now you can go ahead and apply to the top BAMS College in Madhya Pradesh.
Also Read: How Arts Degree Improve the Ability to Solve Critical Problems?
Frequently Asked Questions
Is BAMS valid outside India?
Yes, there are various countries that recruit BAMS graduates such as Qatar, Saudi Arabia, Oman, the US, Canada, and Australia, etc.
Do BAMS graduates do surgery?
BAMS graduates are allowed to assist in minor OT procedures, abscess draining, haemorrhoids, etc. Only after the completion of a PG degree ayurveda students are allowed to perform surgery in the field of ENT, dental, general surgery, etc.
BAMS and BDS are two different medical courses. And cannot be compared as both courses offer attractive career opportunities in their respective fields. Students interested in making a career through allopathic medicine should choose BAMS whereas students who want to build a career in the dental field should pursue a BDS course.
Is PG required after BAMS?
No, it is not mandatory to pursue a PG course after BAMS. However, to expand career opportunities it is advisable to pursue MD or MS post-graduation courses with a specialisation.