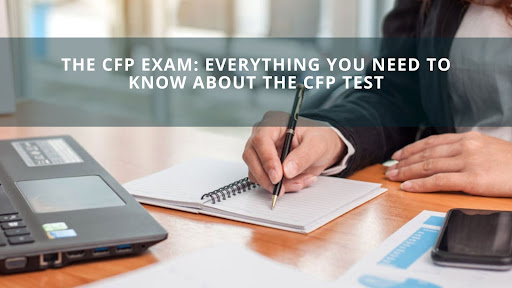 The Certified Financial Planner (CFP) certification is a prestigious designation in the financial planning profession. Attaining the CFP designation not only demonstrates a high level of expertise and professionalism but also opens up numerous career opportunities. In this guest post, we will provide a comprehensive guide to the CFP exam, offering valuable insights and how online certified financial planner courses can help.
Overview of the CFP Exam Format
The CFP exam course is a comprehensive computer-based test that spans six hours and consists of 170 questions. It assesses candidates' ability to apply financial planning knowledge to real-life scenarios. The exam is conducted in the months of March, July, and November each year.
The test is divided into two three-hour sessions, separated by a mandatory 40-minute lunch break. Once the first session is completed or the time runs out, the break begins. The break lasts for exactly 40 minutes. Although candidates can take additional breaks during the exam, the clock continues to run.
Topics Covered in the CFP Exam
The CFP exam covers a diverse range of topics, with different weightage allocated to each area. The key topics and their respective percentages in the exam are as follows:
Retirement Savings and Income Planning (18%): This section assesses candidates' knowledge of retirement planning strategies, calculating retirement needs, and creating sustainable income streams during retirement.
Investment Planning (17%): Candidates are tested on their understanding of investment principles, asset allocation, portfolio management, and investment products.
General Financial Planning Principles (15%): This segment covers the foundational aspects of financial planning, including ethical considerations, financial analysis, and the financial planning process.
Tax Planning (14%): Candidates must demonstrate their proficiency in tax laws, tax-efficient planning, and the impact of taxes on financial decisions.
Risk Management and Insurance Planning (11%): This section explores various insurance products, risk assessments, and strategies to protect clients from financial risks.
Estate Planning (10%): Candidates are evaluated on their knowledge of estate transfer techniques, estate tax, and strategies for preserving wealth for future generations.
Professional Conduct and Regulation (8%): This area focuses on the ethical and regulatory aspects of financial planning, emphasizing the importance of professionalism and adherence to industry standards.
Psychology of Financial Planning (7%): This segment delves into the behavioral aspects of financial planning, considering the influence of human psychology on financial decision-making.
Eligibility Requirements
To become eligible to take the Certified Financial Planner (CFP) exam, candidates must meet specific requirements set by the Certified Financial Planner Board of Standards (CFP Board).
Education Requirements: Candidates must hold a bachelor's degree in any stream from an accredited college or university or complete a certified financial planning program through a CFP program.
Complete a CFP Board-Registered Education Program: In addition to the degree, candidates must successfully complete a CFP Board-registered education program, which covers the core areas of financial planning.
Work Experience Requirements: Candidates must have either:
6,000 hours of professional experience related to the financial planning process or
4,000 hours of apprenticeship experience that meets specific criteria.
Ethics Requirements: All candidates must abide by the CFP Board's Standards of Professional Conduct and agree to comply with ethical guidelines. A background check is conducted to review any prior ethical violations.
Role of Online CFP Courses
Online CFP programs can be highly beneficial in preparing for the CFP exam. These courses offer flexibility and convenience, allowing candidates to study at their own pace and on their own schedule.
They provide access to comprehensive study materials, practice exams, and interactive resources that simulate the real exam experience. Additionally, online CFP classes often have experienced instructors who can clarify doubts and provide personalized guidance.
The digital platform also enables candidates to connect with fellow learners, forming study groups and sharing knowledge. Overall, online CFP courses enhance preparation efficiency and effectiveness, increasing the likelihood of success in the challenging CFP exam.
Final Words
Achieving the esteemed Certified Financial Planner (CFP) certification opens doors to a rewarding career in the financial planning industry. With its rigorous exam format and difficulty level, candidates must be well-prepared. In this journey, online CFP courses offer flexible and comprehensive study options, equipping candidates with the necessary knowledge and skills for exam success.