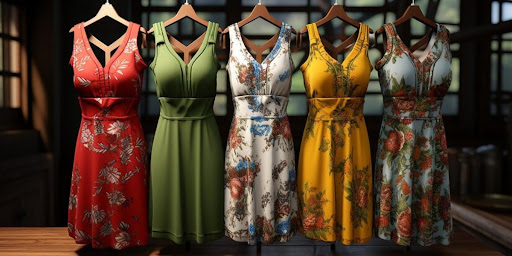 When it comes to luxurious and stunning evening wear, Mac Duggal dresses stand in a league of their own. Renowned for their intricate designs, impeccable craftsmanship, and attention to detail, Mac Duggal gowns are a favorite among fashion-forward. These dresses are perfect for making a statement on various occasions. We have listed fresh new ideas, whether you're attending a formal gala, a romantic date night, or a chic cocktail party. This guide will help you unlock the potential of your Mac Duggal dress and style it flawlessly for any event.
Ideas to Style Your Mac Duggal Dresses for Every Occasion
Here are some ideas to style your Mac Duggal gowns and complement your overall look.
Black-Tie Glamour
Mac Duggal dresses are a go-to choice for black-tie events. For a classic and sophisticated look, opt for a floor-length gown with intricate beading or embroidery. Choose a dress that flatters your body shape, whether it's a fitted mermaid silhouette or an elegant A-line gown. Moreover, complete your look with statement jewelry, such as chandelier earrings or a sparkling bracelet. Here is a tip: a sleek updo or Hollywood waves and a bold red lip will add the perfect finishing touches to your glamorous ensemble.
Chic Cocktail Soiree
When attending a chic cocktail party, a shorter Mac Duggal dress is the way to go. Look for a dress with playful details like sequins, feathers, or fringe to create a fun and flirty vibe. Pair your dress with strappy heels and a clutch for a polished look. Make a sleek ponytail or a messy bun to keep the focus on your dress. Don't be afraid to experiment with bold colors or metallic shades for a show-stopping entrance.
Romantic Date Night
Elevate your date night look with Mac Duggal bridesmaid dresses that exude romance. Choose a dress with delicate lace, soft ruffles, or a sweetheart neckline for a touch of femininity. Enhance the allure by styling your hair in loose waves or a half-up, half-down hairstyle. Keep your makeup soft and natural with a rosy blush and glossy lips. A pair of elegant heels and a clutch will complete your enchanting ensemble, making your date night memorable.
Garden Party Perfection
For a daytime garden party, opt for a Mac Duggal dress that embodies effortless elegance. Light, flowing fabrics like chiffon or silk are perfect choices. Floral prints or pastel hues will seamlessly blend with the outdoor setting. Pair your dress with wedges or flat sandals for comfort and style. Enhance the natural beauty of the event with soft, bohemian-inspired waves and minimalistic makeup.
Exquisite Gala Evening
When attending a lavish gala, you want a Mac Duggal dress that commands attention. Look for dramatic silhouettes like ball gowns or high-slit Mac Duggal gowns with a train. Bold colors like deep jewel tones or metallic shades will help you stand out in a sea of guests. At last, complete your look with a statement clutch and stunning drop earrings. Go for an updo or a sleek bun to showcase the intricate neckline or back details of your dress.
Beachside Elegance
For a destination wedding or a beachside event, choose Mac Duggal bridesmaid dresses that embrace the relaxed yet elegant vibe. Flowy maxi dresses with open backs or halter necklines are ideal choices. Go for natural makeup with a sun-kissed glow and beachy waves in your hair. Choose flat sandals or espadrilles to walk on the sandy terrain comfortably while maintaining a stylish appearance.
Business Gala or Awards Ceremony
When attending a formal business event, choose a Mac Duggal dress that exudes confidence and professionalism. Pick a tailored and sophisticated dress, perhaps with a subtle peplum or sleek sheath silhouette. Stick to classic colors like black, navy, or deep burgundy. Plus, choose elegant and understated accessories, such as stud earrings and a timeless clutch. Here, a sleek updo or a polished low bun will maintain a professional appearance.
Outdoor Music Festival
For a laid-back yet stylish outdoor music festival, embrace bohemian chic with a Mac Duggal dress. Look for flowing maxi dresses with boho prints or crochet details. Pair with comfortable ankle boots or stylish sandals. Prefer natural makeup with a touch of shimmer, and style your hair in loose, effortless waves or braids for a carefree look that's perfect for dancing to your favorite tunes.
Fashion Runway Show
Attending a fashion runway show allows you to play with trends and express your style. Choose Mac Duggal gowns that are fashion-forward and bold. Also, look for avant-garde designs, bold prints, or architectural silhouettes. Then accessorize the outfit with unique pieces that catch attention without overshadowing the dress. You can experiment with high-fashion makeup looks and sleek, edgy hairstyles.
Conclusion
From formal galas to casual garden parties, Mac Duggal dresses offer endless possibilities for styling and making a lasting impression. These exquisite gowns are designed to elevate your look for every occasion, ensuring you feel confident and radiant wherever you go. By following these styling tips and unleashing your creativity, you'll effortlessly showcase the versatility and beauty of your Mac Duggal gown, grabbing everyone's attention. Remember, the key to a successful outfit is wearing it confidently, so rock your Mac Duggal dress with elegance, no matter the event!