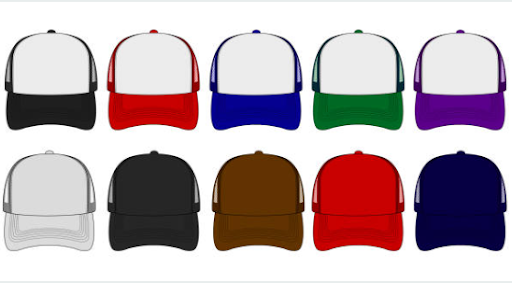 Every piece you wear on your head is referred to as headwear. Typically, most consumers consider headwear such as hats as a fashion rather than merely a fashion requirement. 
The Worldwide headwear market is anticipated to increase at a CAGR of 6.5%, growing to $36.4 billion by 2028. This is due to the paradigm shift in consumer behavior. One notable shift that has been witnessed lately is the return of the trucker hats.
From Ed Hardy to Von Dutch, these hats were a tried and tested sample of the Y2K-era fashion. The latest resurgence of trucker hats can be attributed partly to celebrities bringing this iconic headwear back into their accessory collection. These hats have made a huge comeback thanks to stars like Rihanna, Hailey Bieber, and Kendall Jenner.
You might be surprised at how pervasive it has become, making it to the most unlikely places. In the 2022 Met Gala, Kylie Jenner was spotted rocking a veil-like trucker hat. And if the style is in one of the most published red carpets, why should it not be a part of your accessory arsenal?
This piece will give the criteria you need while choosing one and the top five hats you must include among your headwear.
1. Old Favorite Hat Camo Collection
The Old Favorite Camo Trucker Hat by Nine Line Apparel is perfect if you want a hat that combines a timeless style with modern comfort and a dash of American pride. Thanks to their washed twill construction, these hats have a classic look and feel.
They are ideal for hot summer days because the mesh back allows air to circulate. With the washed twill and mesh back structure, you will get maximum ventilation, keeping your head nice and cool. It is not an overstatement to say this is a timeless classic that can be worn by anybody, regardless of gender or sense of fashion, because of the classic style it embodies.
There is a tremendous range of designs and colors to choose from, whether you like the camo pattern or prefer a more muted color. The hat can be adjusted to a comfortable fit with the snapback closure so that it won't fall off during the day.
Quality is not an issue with Nine Line Apparel. Customers who have purchased these caps have given them effusive praise.
The brand is a proudly American company that only sells products created in the United States. Buying a hat from the Camo Collection of Old Favorite Trucker Hats is not only a smart fashion move but also gives back to a company run by veterans. Display your patriotism and wear it with pride.
2. Roadie Trucker Hat  
The Roadie Trucker Hat provides structure and comfort without compromising on style. These hats boost exceptional craftsmanship and patriotic designs that will enhance your appearance while displaying your passion for your nation.
Here are some reasons to think about adding one of these fantastic hats to your wardrobe:
Customizable fit: The snapback closure allows for an easily adjustable fit. Simply resizing the hat to your favorite size will provide a snug and comfortable fit that lasts the entire day. Say farewell to caps that are too tight or lose because this one can accommodate various head circumferences.
Stylish designs: A variety of colors and designs are available in the Roadie Trucker Hat collection to match your style.
Patriotic and versatile: The Roadie Trucker Hat is a functional accessory that adds a dash of patriotism to any wardrobe, whether going on a casual outing, attending a sporting event, or just doing errands. Show off your affection for your nation by donning it proudly.
3. HAKA Trucker Hat
Haka's trucker hat may be customized in various ways, which is why it is among the best. This hat can be purchased to show support for any one of the fifty states or one of the cities. After you choose one, the name of the state or city is embroidered on the crown. 
You'll want to wear this hat daily since it is soft and cozy. All credit goes to the cap's low profile, curved bill, and adjustable mesh snapback, which make it the most comfortable trucker hat.
4. Vintage Logo Trucker Hat by Patagonia
Patagonia's commitment to sustainability is well-known and shows in the company's Vintage Logo, Trucker Hat. This trucker hat is a traditional style updated with eco-friendly materials: organic cotton and recycled polyester mesh.
The adjustable snapback makes it easy to get the perfect fit, and the retro logo is a nice throwback touch. Its durable design and classic style make it ideal for outdoor activities and everyday use.
5. Richardson 112 Trucker Hat
Richardson, a trusted brand, makes this hat with high-quality materials and construction. Because of its high-quality construction and varied color options, the Richardson 112 Trucker Hat is a fan favorite among hat wearers. 
The cotton and polyester construction make it soft and breathable. In addition, the snapback clasp and sculpted front panels make it suitable for a wide range of head sizes.
Closure
Nowadays, trucker hats are more than simply a practical item; they're a way to express one's unique sense of style and character. Trucker hats come in various types, from simple to elaborate.
These hats are a great way to show off your style and individuality, whether you're going for a vintage appearance, a patriotic theme, or a more casual sports vibe. You can choose any of the above hats to add to your accessories and make a fashion statement wherever you go.